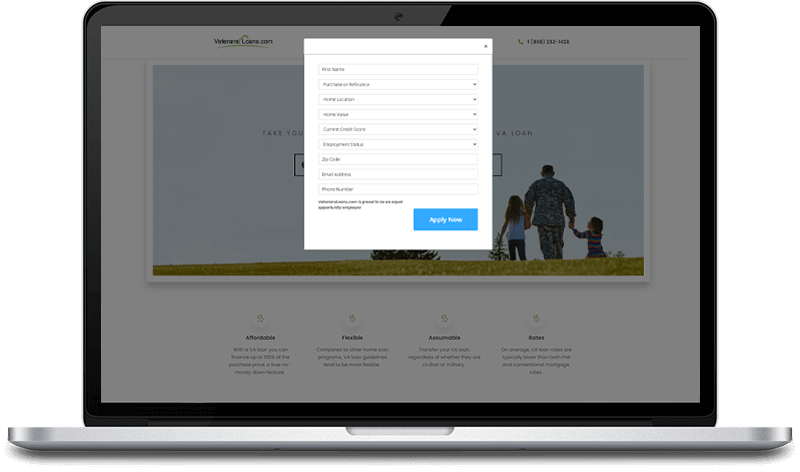 Help for
First-Time Home Buyers
Are you ready to become a homeowner? With your dedicated service, you've earned the benefit to apply for a VA loan. Purchase your dream home at a competitive rate with multiple financing options, up to $1 Million, before needing to put any money down.
Down payments are not required.
Lower funding charges for first time home buyers.
Affordable mortgage payments.
Save Money
Consolidate debt, lower your monthly mortgage payment, or switch to a fixed interest rate.
More VA Loan Benefits
Multiple Options
Veterans can pay off a non-VA loan, get cash at closing, or do both simultaneously.
Check Your Eligibility
Low Rates
Benefit by refinancing your mortgage to take advantage of record low, fixed interest rates.
More About VA Refinancing
Meet Our Team
Our in-house team is comprised of accomplished VA loan experts, account managers and underwriters. We rely on one another to share best company practices.
---
Our Happy Customers
Don't take it from us, let our clients do the talking!
"The entire team was incredible! I was very nervous as a first time home buyer, and they continuously worked to make the process as stress-free as possible. They answered all of my questions quickly, and really made me feel like they truly cared. Great company!!!"
Serenity, US Air Force, AL
Customer
"I have financed and refinanced several times. Veteransloans.com has been the easiest and smoothest and fastest, I can't say enough good things about the people at Veterans Loans!!! They are the BEST!!! They even came to my home and my loan was closed on my Kitchen table!!!"
James, US Army, MO
Customer
"They were knowledgeable, thorough, prompt and so polite. They made the experience easy and answered all my questions. I would definitely use them again."
Jack, US Navy, FL
Customer
"They were professionals from the start and stuck by us ready to answer any and all questions. Thanks guys, we love the new house!"
James, US Air Force, MS
Customer
Read More
---
#FeelsLikeHome
We are a tight-knit group with a passion for what we do; helping service members secure home financing.
Create a better financial future Get Started for
Free
To see if a VA loan makes sense for you, get started with a custom quote with no impact to your credit score
Get Started